The world's most exciting destinations

From the world's most professional DMCs
St Petersburg is a unique city, mysterious and beautiful – a true open-air museum which brings together classical tradition, sophisticated architecture, a vast cultural heritage, and the dynamism of a modern megalopolis. Magnificent palaces, historical monuments, and the unhurried flow of the River Neva form a splendid backdrop to the city's intense business and public life. St Petersburg captures the imagination at any time of year. During the winter its charm is the ice-shackled Neva and the snow-laced domes of its cathedrals. In the summer you'll be seduced by the White Nights and the spreading wings of the city's raised bridges. This palette of impressions is enriched further by the special hospitality and kindness of native Petersburgers, who are always ready to give their guests a warm welcome. We invite you to our amazing city to watch the magnificent Petersburg ballet, visit our famous museums, and discover for yourself St Petersburg's unique architecture and traditions in an atmosphere of original Russian hospitality.
The Best Event Venues in St Petersburg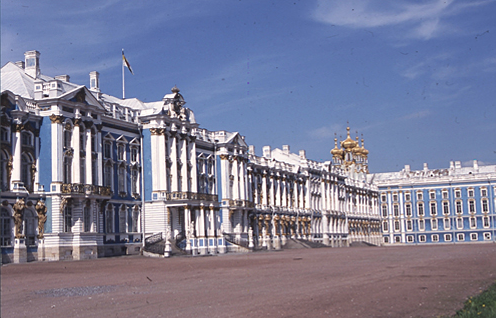 The Catherine Palace, also known as the Grand Tsarskoe Selo Palace, is an inimitable example of the Late Baroque style.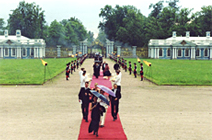 Construction of the palace began in 1717, but the building was then continually altered during the course of 40 years, producing what is undoubtedly a unique piece of architecture thanks to contributions by some of the great architects of the age – Braunshteyn, Cameron, Zemtsov, Kvasov, Monighetti, and Rastrelli.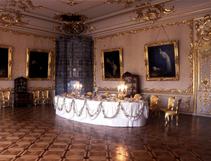 One of the main features of the Catherine Palace is the Amber Room. This unique piece of craftsmanship mysteriously disappeared during WWII, but was recently painstakingly recreated by Russian restorers over a period of more than 20 years. It was officially re-opened in 2003 in time for St Petersburg's tercentenary.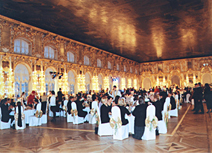 The Throne Room is the principal stateroom of the Catherine Palace. In the 18th century it was an official venue for imperial balls and high-society receptions. Catherine II liked to hold costume balls and masquerades here. As our guests, you will have a unique opportunity to go back in time to the age of lavish imperial celebrations and to try some of the most refined dishes that Russian cuisine has to offer.
The Throne Room can seat up to 600 guests at a gala dinner.