The world's most exciting destinations

From the world's most professional DMCs
The purpose of an incentive tour in Tallinn is to encourage employees, partners, and clients by offering relaxation and entertainment. Such trips are undoubtedly important for a team and are an excellent way of combining active recreation with fulfillment of specific business objectives, including improvement of employee motivation, building team spirit, establishment of contacts with partners, and encouragement of client loyalty. Our incentive programmes in Tallinn are devised for specific groups and are tailored to the particular client's objectives, desires, and budget. Below, we present a selection of successful incentive projects, as well as tried and tested ideas for a wide range of incentive programmes. Bring joy to your colleagues and clients!
Incentive programmes and team building in Tallinn


Vana Viru 96, Tallinn 12111, Eesti
estonia@a-dmcglobal.com
The most effective way to discuss incentive ideas for your programme is to contact us directly.
Its beautifully preserved city walls and the special atmosphere of the Old Town give 1000-year-old Tallinn the appearance of an open-air medieval museum. The city wall with its numerous bastions – in the 16th century one of the best systems of fortifications in Northern Europe – has survived almost intact. Whether you are an inquisitive cruise-ship passenger, a spoiled member of an incentive group, taking part in a serious conference or fun corporate event, or on a VIP or private tour, you will love walking along Tallinn's winding, cobbled streets.

Inside the city wall, Old Tallinn divides into two parts: the Upper Town, which stands on Toompea Hill, and the Lower Town. The centre of Tallinn dates to the 9th century and has come down to us in excellent condition due to the thick stone city walls which proved an excellent defence against the frequent attacks. Here stands the unique Town Hall, and introductory tours of Tallinn always start in Town Hall Square.
The route then takes you through the Upper Town with mandatory stops to gaze down from viewing platforms. Then, after descending along one of the wonderful lanes to the lower part of Tallinn, you will hear the history of the Lower Town and stories of people who have lived here.
Next to the Town Hall is an old apothecary's built in 1422. In the Old Town you will find numerous churches – including St Olaf's, which was built in the 13th century and was once the tallest church in medieval Europe.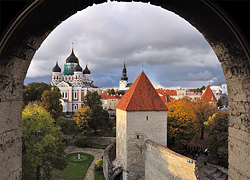 On Toompea Hill is one of Tallinn's symbols, the amazingly beautiful Alexander Nevsky Cathedral (Russian Orthodox), the largest church in the city. Richly decorated, with a bell-tower containing 11 bells, it is a combination of various historical styles; of particular interest are the cathedral's icons and mosaics. Visitors will also be fascinated by other sights in Tallinn. There is the Dome Church, whose every stone exhales the history of medieval Europe.
Then there is the palace and park of Kadriorg, which is a favourite spot for walks for the city's inhabitants and numerous visitors. Niguli Church is quite unique: it contains a masterpiece of painting that any of the world's best galleries would dream of getting their hands on – The Dance of Death by Lubeck artist Bernt Notke. The Park of Baron von Glen is another place which furnishes firm proof that Estonia is a destination for true Romantics. The medieval atmosphere of the Old Town is best felt in St Catherine's Passage, which lies between Vene and Muurivahe streets. Here you can walk along looking at master craftsmen at work.
Our сontacts:
Vana Viru 96, Tallinn 12111, Eesti
estonia@a-dmcglobal.com