The world's most exciting destinations

From the world's most professional DMCs
The purpose of an incentive tour in Krakow is to encourage employees, partners, and clients by offering relaxation and entertainment. Such trips are undoubtedly important for a team and are an excellent way of combining active recreation with fulfillment of specific business objectives, including improvement of employee motivation, building team spirit, establishment of contacts with partners, and encouragement of client loyalty. Our incentive programmes in Krakow are devised for specific groups and are tailored to the particular client's objectives, desires, and budget. Below, we present a selection of successful incentive projects, as well as tried and tested ideas for a wide range of incentive programmes. Bring joy to your colleagues and clients!
Incentive programmes and team building in Krakow


ul. Tyniecka 3/12 30-319 Kraków
krakow@a-dmcglobal.com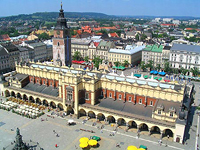 The most effective way to discuss incentive ideas for your programme is to contact us directly.
"This is a city that is great and wonderful, with an enormous number of houses, residents, bazaars, vineyards, and gardens": so wrote the Arab geographer Al Idrisi of Krakow in the 12th century. Not much has changed since then. The royal city of Krakow continues to win the admiration of all who visit it. Its charm lies, above all, in its old lanes and squares, the solemn nobility of its unique churches, the warm hospitality of its inhabitants, and the special atmosphere of its cafes and restaurants. To describe Krakow is impossible: you could live all your life in this city and yet not get properly to the bottom of it. However, if you wish to understand and know Poland itself, you should definitely begin with Krakow, since it is this city that is the country's soul. Krakow was the capital of Poland for five centuries, so it is hardly surprising that the Old Town, together with the royal castle of Wawel and the old Jewish quarter of Kazimiez, were in 1978 included in UNESCO's first List of World Heritage Sites. Every step you take in Krakow will immerse you in the city's unusual history – in which Polish, German, Italian, and Jewish cultures have all left traces. Thanks to these influences, Krakow has in all periods of its life produced new forms of distinctive and original architecture.
Our сontacts:
ul. Tyniecka 3/12 30-319 Kraków
krakow@a-dmcglobal.com