The world's most exciting destinations

From the world's most professional DMCs
Incentive tours are trips to incentivize employees, partners, and clients by offering them relaxation and entertainment. Such trips are a proven instrument for encouraging a team; they involve only the most interesting and original forms of service. This is an important key to motivating staff and can help accelerate the attainment of a result in any field of activity or business.

Trips likes this are undoubtedly important for teambuilding and are an excellent way of combining active recreation with fulfillment of your specific business objectives; they improve employee motivation, build team spirit, establish contacts with partners, and encourage client loyalty. Our incentive programmes in Merida are devised for specific groups and are tailored to the particular client's objectives, desires, and budget. Bring joy to your colleagues, partners, and clients by giving them a great incentive trip!
Incentive trip in Merida


Av. Insurgentes Sur No. 1377,
P.B., Col. Insurgentes Mixcoac,
México, D.F. 03920
mexico@a-dmcglobal.com
| | |
| --- | --- |
| Tel.: | (52) (43) 5 43 43 86 |
The most effective way to organize an incentive trip in Merida is to contact us right now so as to discuss ideas on how to organize your trip to Merida and clarify the objective and budget for your event. In addition, you'll be able to take advantage of services offered by our partners in whatever region you require.
City Tour of Mérida
Sightseeing of this beautiful city founded by the Spaniards in 1542. Participants will see the Historical Center, including the Cathedral and the Government Palace. Also, they will take a ride on a horse-pulled carriage ("calesa") along the Paseo de Montejo Avenue, the most beautiful and representative avenue of the city.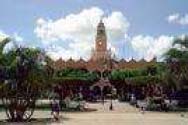 City Tour of Izamal
Located an hour drive from Merida, Izamal is a charming colonial town also known as "The City of the Three Cultures" because it blends elements of the pre-Hispanic, colonial and contemporary eras.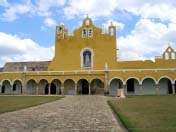 Its buildings, most of them painted in yellow, form an attractive contrast with the blue sky. Its clean streets with horse-driven carriages, its parks and quaint squares, as well as its peaceful atmosphere, combine to make of Izamal a place worth visiting.
Chichen Itza
It is the largest and best kept archaeological zone of the Maya and Toltec cultures. Located in the midst of a wonderful natural environment and lush vegetation, it once was a spectacular ceremonial center. Visitors are fascinated by its enigmatic temples and pyramids.
Uxmal & Kabah
Excursion to UXMAL ("Three Times Built"), considered as the highlight of the Puuc Route in Yucatan. Dominating the site is the 38 meter-high Pyramid of the Magician, a series of five superimposed temples. A steep 118-step climb to the top rewards you with a magnificent panoramic view. The most spectacular building is the Governoґ's Palace, a long, rectangular building on a series of three terraces encompassing a five-acre area.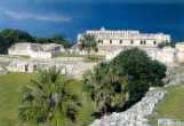 Its facade is composed of more than 20,000 intricately-carved stones giving the appearance of delicate latticework. The Nun's Quadrangle, a vast plaza flanked on four sides by large structures with numerous doors and rooms, also deserves the attention of the visitor. The Nunnery entrance is through a lovely arch leading from the Ball Court. The Castle is built over a series of previous constructions. An interior staircase leads to the Throne of the Red Jaguar, a chamber containing a Chac-Mool and a stunning, pop-eyed jaguar. The Temple of the Jaguar gives access to the "must see" Ball Game where priests played religious ball games. Continuation to KABAH located also in the south of the city of Merida. This archaeological site is famous for its palace with hundreds of carved stones representing the Mayan God Chac.
Our сontacts:
Av. Insurgentes Sur No. 1377,
P.B., Col. Insurgentes Mixcoac,
México, D.F. 03920
mexico@a-dmcglobal.com
| | |
| --- | --- |
| Tel.: | (52) (43) 5 43 43 86 |