The world's most exciting destinations

From the world's most professional DMCs
Incentive tours are trips to incentivize employees, partners, and clients by offering them relaxation and entertainment. Such trips are a proven instrument for encouraging a team; they involve only the most interesting and original forms of service. This is an important key to motivating staff and can help accelerate the attainment of a result in any field of activity or business.

Trips likes this are undoubtedly important for teambuilding and are an excellent way of combining active recreation with fulfillment of your specific business objectives; they improve employee motivation, build team spirit, establish contacts with partners, and encourage client loyalty. Our incentive programmes in Belgium are devised for specific groups and are tailored to the particular client's objectives, desires, and budget. Bring joy to your colleagues, partners, and clients by giving them a great incentive trip!
Incentive trip in Belgium


Place des Carabiniers 45
B - 1020 Brussels
brussels@a-dmcglobal.com
The most effective way to organize an incentive trip in Belgium is to contact us right now so as to discuss ideas on how to organize your trip to Belgium and clarify the objective and budget for your event. In addition, you'll be able to take advantage of services offered by our partners in whatever region you require.
ACCOMODATIONS
We can propose you different kinds of accommodation in Belgium. From classical hotels to more original places such as castles, deluxe villas for privatization (with meeting room), cottages, country houses, sailing ships, former prison and churches…

MEETINGS, SEMINARIES, CONGRESSES…
Brussels, capital of Europe, is very well-equipped in meetings venues as loads of large congresses and meetings take place here.
We can organize your meeting in hotels, convention centers, libraries or very unique venues.

LUNCHES AND GALA DINERS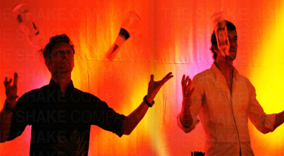 Depending on your budget and needs, we can privatize for your group typical restaurants or unique venues such as theaters, museums, boats, historical monuments or trendy places. We will ensure that your participants will get back home with memorable memories!
If you want to give a special touch to your event, we can also arrange you great animations and atmosphere during your meal. From classical wine tasting, to Jacques Brel singer, drum sessions, concerts and shows…

ACTIVITIES
If you want to discover Brussels or Belgium in general, we will propose you tailor-made offers based on all the important themes of Belgium: Comic's, bier, chocolate, Art-Nouveau, diamonds,…
You can discover Brussels in an original way by a nice walk in the historical city center. On the way, we can include some challenges and tastings of typical Belgian products (chocolate/praline in a chocolate factory, beer in a brewery…).
It's also possible to participate in a chocolate workshop and return home with a little present for your family and friends, made in Belgium! And what about a cooking class where you will learn how to prepare a Waterzooi or a Stoemp?!
We can even organize a Comic's tour in the city center with visit of the Comic's Museum, lunch at Comic's café and creation of your own Comic in groups!

If you want more active activities and team building activities, we can suggest you games as Paintball, Snowball, Karting, graffiti,… or a whole day in an Adventure parc!
It's also possible to organize treasure hunts or to make tours in segways, e-bikes or buggy's!
There are many very interesting cities around Brussels where you can do great activities such as boat tour on the channels in Bruges, great water activities on the coast, visit of special museums in Antwerp or Ghent…

Our сontacts:
Place des Carabiniers 45
B - 1020 Brussels
brussels@a-dmcglobal.com