The world's most exciting destinations

From the world's most professional DMCs
Holding an event or gala dinner in Barcelona is a great idea!
A celebratory dinner can be the final chord of your event in Barcelona! It may take any of a number of forms – a conference dinner, a corporate dinner, a private dinner, or a gala dinner. Every detail in the organization of such an event is of great importance, especially finding a location (trendy restaurant, prestigious hotel, or exclusive venue) that will be perfect for your needs. Also important are an interestingly decorated space, faultlessly laid tables, an elegantly drawn up menu, eye-catching presentation of dishes, a precise programme, and original invitations for guests. Finally, you will want a festive atmosphere based on an entertainment programme involving colourful performers and musicians. A gala dinner in Barcelona is an image-forming event. In preparing it no detail can be too small to deserve attention.
Holding an event or gala dinner in Barcelona is a great idea!


Calle Montera, 45, 43
28013 Madrid Spain
barcelona@a-dmcglobal.com
The special nature of an evening of celebration requires professional preparation. We are experts in organizing corporate events and can offer you the services of experienced event managers, the best banqueting halls in famous hotels, and popular restaurants and spaces for events in Barcelona – everything to meet your specific needs and make your evening unusual and memorable.
FLAMENCO CLASS
Flamenco is the most Spanish of all dances!

The Flamenco lessons start from basics ('rumbas') and progress onto alegrias, tangos, bulerias, and solea. Use of castanets and rhythmic clapping and are also included. Whatever your level, it's lots of fun, well-taught, great exercise, and really 'Spanish'!
Our teachers are professional Flamenco dancers and they can performace a private exhibition for you and your friends. At our ace everything is ready for your Flamenco class including the traditional dresses and accesories for all the participants (no matter age or size).
You just need to bring your camaras as we have traditional Flamenco costums, accessories and great music. And, of course, a couple of professional Flamenco dancers (bailadores)! Following the exhibition our Flamenco teachers will show and teach you quickly how to dance and how to "feel" flamenco.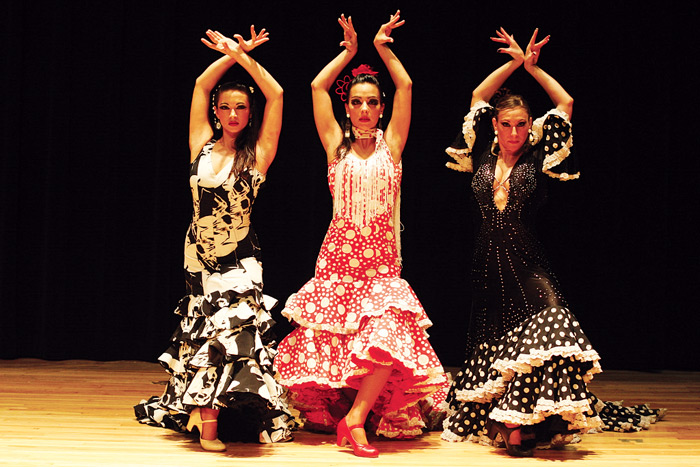 Our сontacts:
Calle Montera, 45, 43
28013 Madrid Spain
barcelona@a-dmcglobal.com